Adding flavor to the emerging personal chef and catering business.

When Hugh Sinclair decided that his career path was not fulfilling, he traded his office at an architecture firm for the kitchen. Sinclair, who is Jamaican, currently is the owner and executive chef of the personal chef and catering service, Chef Irie Spice. Since he always had a passion for cooking, the move seemed natural and the excitement in his voice as he talks about his business is palatable.
Sinclair graduated from the University of Florida with a degree in architecture, before working at an architectural firm. After three years, he decided he needed to do something else with his life. "I was not getting a feeling of self fulfillment," he said. So after careful consideration, he decided to enroll in culinary school. That move was greeted with some degree of skepticism from friends and family but eventually he received their support as he embarked on the new journey. Now, he is unequivocal in his assessment in the role that those close to him played in his decision. In fact, Sinclair insists that when considering new ventures, it is imperative to first secure the backing of those closest to you.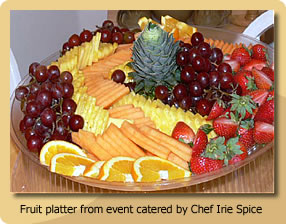 While attending Johnson & Wales University, Sinclair worked in various restaurants such as Charlie's Crabs and Bimini Boatyard. He describes this period as rough and challenging but insists that the time he put in was well worth it. He was able to see first hand how the things he was learning at culinary school translated into the workplace. This experience was to later prove invaluable.
Culinary school offered up various options. Upon completion, he could work as a chef on cruise ships, in restaurants or hotels or start his own business. Sinclair opted for entrepreneurship, but now was faced with yet another decision. He could open a restaurant but that would limit his ability to learn new cuisines. Additionally, the competition among restaurants is fierce, and in some cases there are various restaurants within a short distance of each other. Sinclair knew he had to differentiate himself somehow. As a result, Chef Irie Spice was born. The venture has two lines of business: personal chef as well as catering services. This would allow him to learn new cuisines and be creative in preparing dishes. It would also allow him to cater to each client on a more personal and intimate level.
Despite the growing demand for personal chef services, the majority of Chef Irie Spice's business comes from its catering service. Sinclair estimates that up to 80% of business is derived from catering. Catered events range from birthday parties to an intimate dinner for two. Chef Irie Spice also offers full service catering where servers are provided and personal attention is available from the chef, who remains on-site to ensure that the entire service package is up to par.
Continuous Development
In order to offer full value to his clients, Sinclair is devoted to the idea of continuous personal development. Since clients' needs and goals may vary from weight loss to better diets, he has to stay current on industry trends as well as his knowledge of nutrition. Therefore, he reads various books on nutrition and has subscription to industry specific magazines. He uses the internet for researching topics as well. In his mind, he needs to be able to speak to varying topics about food and nutrition if he is to be able to woo potential clients and increase his business. He also hones his skills by entering various cooking and recipe competitions. These events force him to "look at food in a different way and take the complex and make it simple."
As part of his continuing education, he makes an effort to try cuisines and dishes at new restaurants. This type of market intelligence yields insight into new ways to mix ingredients, prepare and present a dish. "I look at what other chefs do so I can improve on what I do now," he explained. He also tries to learn about the people and their culture. Since food is a big part of any culture, he contends that gaining an understanding into the people and culture will enhance food preparation techniques.
Sinclair, who is ServSafe certified (an industry designation showing qualification in safe food handling and preparation practices) loves the idea of entrepreneurship and the flexibility that comes with it. Clients typically allow him some degree of freedom in developing the menu for events. Once the menu is set, he shops for the necessary items and selects the staff needed to prepare for the event. Preparations are done at his kitchen in Sunrise with music typically playing in the background. On the day of the event, he arrives in advance to set up and if necessary stay onsite to supervise. A satisfied client signals success and reinforces the reasons for going into business for himself. Not surprisingly, he finds the idea of going back to the confines of a 9 to 5 job difficult to conceive. "I love the sense of empowerment that I have where I can work hard doing what I love to do," he states.
The American Personal & Private Chef Association (APPCA)
is an organization dedicated to the development and education of personal chefs. Its website (
www.personalchef.com
) is a valuable resource to personal chefs or those seeking to hire a personal chef. Chef Hugh Sinclair, who is a member, maintains that the APPCA gives him visibility among other personal chefs and clients looking for personal chefs. He uses this network as a resource by posting questions on the
discussion board
accessible on the website.
The APPCA provides training materials and seminars for personal chefs. These seminars address the culinary aspects of the profession as well as the business aspects. The association seeks to help aspiring personal chefs get started in the business, offers tips on finding clients and design service packages.
Sinclair realizes that it is important to promote his company effectively. He relies on print advertising and networking and tasting events. He has appeared on the Today Show on NBC 6 and makes appearances on the radio talk show Caribbean Crossroads on WTPS 1080 AM.
Just as important to his promotional strategies are word of mouth referrals and his website (www.chefiriespice.com). He estimates that 30% of Chef Irie Spice's business comes from its website. He insists that maintaining a website is critical to most businesses as it offers a wider exposure. Just recently, a potential client from Maryland contacted him after an internet search. Convinced of the necessity and effectiveness of a website, he is looking to overhaul its appearance in order to appeal to a wider range of potential clients. He wants his business to be looked at as more than just a provider of West Indian cuisine. However, he is keeping the name Chef Irie Spice as he wants to maintain the brand equity already created. Sinclair believes that being from the Caribbean presents him with a competitive advantage as there are aspects of other cultures prevalent within the Caribbean culture. "Out of many, one people," Sinclair recites. "I am not from China, India nor Africa, to name a few countries. Yet I can draw on these cultures and practices as they all are a part of the Jamaican culture." This cultural melting pot enables him to be diverse in offering exotic dishes to his clients.
Mobile Kitchen
Sinclair believes that the demand for personal chefs will grow. Busier schedules coupled with a greater sense of nutritional needs will cause the personal chef to become a necessity. This could lead to expansion that might entail getting a bigger kitchen and hiring more staff that would facilitate more clients. He is also strongly considering the addition of a mobile kitchen to his line of business. This kitchen on wheels, "Mobile Kitchen Express" as he calls it, would allow him to cater to park events or even concerts. This would in effect be taking the kitchen to a client's home or event and allows preparation to be done onsite.
The decision to change careers is undoubtedly a good one. But, the former architect has a strong word of caution to anyone planning to switch careers like he has done. He emphasizes "this should not be done on a whim or as a knee jerk reaction. Give it long hard thought."
Now, that is good food for thought.