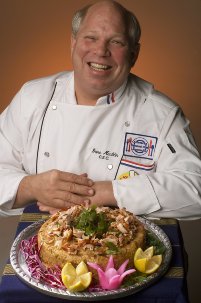 Personal Chef Summit 2003
San Diego, California
August 16, 2003

It is with enormous pleasure that I announce the very first APCA Chef of the Year award to a chef/member whose loyalty and commitment to the personal chef industry and APCA is without question. Chef Dane Mechlin participates on many levels and touches many careers and lives with his generosity of spirit, as chef, mentor, personal chef trainer, Local Chapter President, Regional Manager and Summit Presenter and Host.

For his commitment to excellence in the personal chef industry and life, we award the Chef of the Year Award for 2003 to Chef Dane Mechlin, CEC.

Bravo, Chef Dane!